Panama City Traffic Offense Lawyer
Don't Plead Guilty! Get a Free Phone Consult:
(850) 250-3426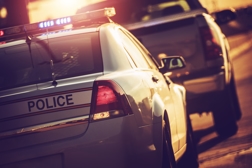 Have you received a traffic or moving citation in Panama City? Your options are to pay off the ticket, elect to complete driving school or to choose to have a hearing. Before you consider just paying it off, remember that you could face numerous negative repercussions, including points on your license, increased insurance costs, driver's license suspension, driver's school and more. No matter what your traffic violation involved, the Panama City traffic attorney at Albert J. Sauline, III Attorney at Law is ready to help.
Why Choose This Traffic Violation Attorney?
more than 15 years of proven legal experience
Former prosecutor in your corner
Ethical, One-on-one counsel from a local attorney
Free phone consultation & same-day return of calls
With Attorney Sauline's firm, you may be able to save your driving record and have your charges reduced or dismissed altogether. Put Attorney Albert Sauline's extensive knowledge of the court systems to work for your traffic case.
Contact us today to learn more about how our traffic offense lawyer can defend you.
Why Hire a Defense Lawyer for Your Traffic Case?
Regardless of whether you are being charged with a moving violation, civil traffic infraction, or a criminal traffic charge, it is important that you hire an attorney to not only contest the claim, but to help you minimize your potential penalties. The team at Albert J. Sauline III, Attorney at Law understands the severity of traffic violations, and will do what it takes to secure the best possible outcome.
Attorney Sauline has represented numerous traffic violation cases, such as:
Careless driving
Driving on a suspended license
Illegal turn
Running a red light
Running a stop sign
Speeding
Attorney Albert Sauline's methodic and detail-oriented investigations have helped many clients get their charges dramatically reduced or dismissed. He will examine every shred of evidence, scrutinize all law enforcement procedures and conduct for any violations, and is not afraid to go up against hard-hitting prosecutors in court. Level the playing field with help from Attorney Sauline.
Fight your traffic ticket with a former prosecutor!
Want to avoid harsh traffic violation penalties and protect your driving record? To begin your defense, contact Albert J. Sauline, III Attorney at Law! The lead counsel is also a former prosecutor who is ready to go to battle for you.